Fashion is connected to our daily life. Film stars to ordinary people, everyone holds a fashion in their personal life. Because of this importance, many people build their careers in the fashion sense. Julia Haart is one of those people. She became influential in fashion and gained massive wealth from there. Today, we will discover Julia Haart net worth and the facts behind it.
Who is Julia Haart?
Julia Haart is an American fashion designer who established her own business. She held high-level positions in several giant fashion companies like Elite Model Management, La Perla, etc. She also owns a namesake shoe collection brand. Besides this, Julia is an author. She wrote a book on fashion.
Short Bio of Julia Haart
| | |
| --- | --- |
| Full Name | Julia Haart |
| Birthdate | April 11, 1971 (age 52) |
| Birthplace | Moscow, Russian SFSR, Soviet Union (now Russia) |
| Nationality | Russian, American |
| Height | 5' 5" (1.65 m) |
| Profession | Fashion designer, Businesswoman, Author. |
| Social Media | Instagram, Twitter |
| Net Worth | $50 million |
Julia Haart Net Worth
Julia Haart's net worth in 2023 is estimated to be $50 million. Being a successful fashion designer is the main reason behind this massive net worth. She has influential positions in various well-known big brands. Also, she owns her own business. Besides these, Julia's various career attempts made a significant impact on her financial status.
Early Life
Julia Haart was born in Moscow, Russia. She and Her family moved to Austin, Texas, at the age of three. There, she attended her primary school at a private school. Later, Julia and her parents moved to Monsey, New York, when she was in her fourth standard. They joined Haredi.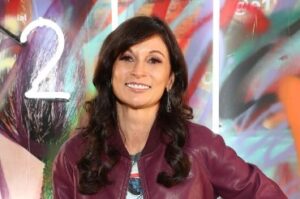 As a result, Julia grew more religious. She attended her high school at Bais Yaakov Academy in Brooklyn. During this time, she taught herself about fashion sense. After completing high school graduation, she enrolled in a seminary for one year at Beth Jacob Jerusalem.
Sources Behind Julia Haart Net Worth
Teaching Career
Julia received a teaching certificate from the seminar in Jerusalem. As a result, she started her career as a teacher and taught English and/or Judaic Studies at Jewish schools. She became a teacher at Yeshiva Atlanta, the first Jewish secondary school in Metro Atlanta, Georgia. Later, she left this school and joined Sha'arei Torah school in Brooklyn as a teacher.
Julia transferred to several other places Jewish schools, like Bnos Leah Prospect Park Yeshiva High School in Brooklyn, Yeshiva of Spring Valley in Monsey, and Bais Rochel in Monsey. And The Adolph Schreiber Hebrew Academy of Rockland (ASHAR) in New City. In 1990, she joined as a Judaic Studies teacher at the most vital Jewish school, Atlanta Jewish Academy.
Julia continued there until 2000. She got a good salary from those schools where she taught her students. These earnings became the primary source of her net worth. Also, it allowed her to accumulate much wealth from the beginning of her career.
Business Venture
In 2013, Julia founded her own shoe company, Julia Haart. She applied a unique business strategy to make shoes that were both fashionable and comfortable. She hired a ski boot engineer and collaborated with a German company that creates a gel, which is essential in producing comfortable high-heeled shoes. People started preferring this shoe because of its comfort ness and unique design.
Soon, she gained massive customers from all over the world. She also received positive feedback from them. Millions of shoes were sold every month. Still, these shows are selling on the internet and have a huge demand across the world. Undoubtedly, Julia generated a lot of profit from this business venture, which is one of the main sources of her net worth.
La Perla
Julia collaborated with La Perla for their Spring accessory collections. With her unique ideas, she was able to generate a huge amount of sales for the company. Because of her contribution, Silvio Scaglia, owner and president of La Perla, named her as creative director for the brand.
As a Creative Director of La Perla, Julia launched a new collection of ready-to-wear lingerie. She arranged a Winter 2017 fashion show and constructed a "La Perla Manor" runway show where various famous models like  Naomi Campbell, Lindsey Wixson, Sasha Pivovarova, Kendall Jenner, and many others walked. For this reason, her new collection went viral and gained massive customers worldwide.
As a Creative Director, she managed the company's various product collections and their designs and ideas. She also completes various vital duties. She continued this company until 2018 and then moved to Elite World Group. Julia was paid a massive salary from La Perla, which increased her net worth widely.
Elite World Group
Julia became the chief executive officer and chief creative officer of Elite World Group (EWG) in 2019. She took the leadership of the company, re-focused on several collections, and added new divisions. She also formed various new initiatives for the company, such as its own modeling school and talent agency.
As a CEO, Julia managed the financial and economic state of the company and monitored the sales and profit. She continued her CEO position until February 2022. Julia was paid $400,000 per month for completing her vital duties in Elite World Group.
Television Series
Julia launched a documentary television series, My Unorthodox Life, in 2021. This series was premiered on the online streaming platform Netflix. It became so popular worldwide, and a vast number of premium subscribers watch this series.
Jewish Journal named Julia one of the Top 10 Jewish reality TV stars of all time. Julia completed a total of 2 seasons with 18 episodes with this series. She generated a lot of profit from it, which added to her net worth.
Book
Julia published her first and only book, Brazen: My Unorthodox Life, on April 12, 2022. This book tells about her journey from a Jewish community to managing billion-dollar companies. People are attracted to her life story.
As a result, this book became so popular and sold thousands of copies. It also ranked on the New York Times bestseller list. This book is still selling on the internet. As an author, Julia gets a portion of the profit from these book sales.
Personal Life
Julia Haart married Yosef Hendler in 1990. Together, they have four children. After their divorce, Julia married Silvio Scaglia, who is a Swiss entrepreneur and billionaire, in June 2019. Later, Julia and Silvio finalized their divorce in February 2022. On the same day, she was fired from her chief executive officer position at the Elite World Group.
FAQs
What is Julia Haart net worth in 2023?
Julia Haart's net worth in 2023 is estimated to be $50 million.
Is Julia Haart still an owner?
Julia Haart claimed to be a co-owner of the Elite World Group. But the court ruled that she does not own 50 percent of Elite World Group.
Does Julia Haart have a business?
Yes, Julia Haart owns a luxury footwear brand that was launched in 2013.
Is Julia Haart in a relationship now?
After separation from Silvio Scaglia, Julia hasn't been involved in any other relationship.
Final Thoughts
Julia Haart net worth is a representation of her unique ideas and decisions. By applying her creative skills, she succeeded in her professional career as well as in her financial status.