In the world of skateboarding, stunts, and reality television, Bam Margerais a common name. Whether it's for his outstanding performances or for his controversies. But this stuntman has also made a fortune that counts nearly in million. This article will have a look at Bam Margera net worth and his career overview.
Who is Bam Margera?
Brandon "Bam" Margera, shortly known as Bam Margera, is a former professional skateboarder from America. He is also a popular stunt performer and television personality. He gained widespread fame in the early 2000s through his appearances in the MTV reality series "Jackass."
The show's massive success drove Bam and his fellow cast members to notable fame. Bam was a part of all its subsequent sequels. His daring stunts, combined with his mischievous charm, made him a fan favorite and earned.
| | |
| --- | --- |
| Full Name | Brandon "Bam" Margera |
| Born | September 28, 1979 (age 43 years) |
| Birthplace | West Chester, Pennsylvania, United States |
| Nationality | American |
| Height | 5 ft 8 in (1.73 m) |
| Profession | Professional Skateboarder, Stunt Performer, Television Personality, Filmmaker, Musician |
| Social Media | Facebook, Instagram |
| Net Worth | $1 Million |
How much is Bam Margera Net Worth right now?
As of today, Bam Margera owns nearly $1 million in terms of net worth. His primary source of income is his reality shows and films he has worked in. Also, he earns considerable revenues from different social media platforms.
Early Life
Born in September 1979, Brandon Margera grew up in West Chester, Pennsylvania. His parents, April and Phil Margera are both television personalities. He has a brother named Jess, who is a musician, and he is also related to a TV personality called Vincent "Don Vito" Margera.
As a young child, Brandon earned the nickname "Bam Bam" from his grandfather due to his habit of intentionally running into walls. Over time, the nickname was shortened to simply "Bam" by his friends at school.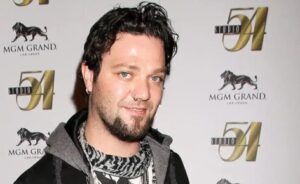 Brandon loved making videos and doing daring stunts. He got his first video camera from his dad in 1993. Together with his friend Chris Raab, he started recording videos of skateboarding and crazy stunts. They called it the CKY video series.
He dropped out of school in 1994 after his friend Chris got expelled. But he didn't stop learning. His mom taught him at home, and he got his GED.
Source Behind Bam Margera Net Worth
Skateboarding and CKY Videos
Bam Margera's passion for filmmaking and skateboarding led to the independent release of his first CKY film, originally titled "CKY: Landspeed," in 1999. The videos showed wild stunts, pranks, and skateboarding tricks, all set to music by his brother Jess's band, CKY.
The film was later followed by sequels, including "CKY2K," "CKY3," and "CKY4" which featured Bam's friends forming the CKY crew. They started working on videos and music together, and people loved their crazy stunts.
From his early beginnings with the CKY video series, Bam rose to fame with the "Jackass" franchise and beyond.
Jackass and Viva La Bam
Margera's big break came when he joined the "Jackass" crew in the early 2000s. The TV show, filled with outrageous stunts and pranks, turned Bam and his friends into celebs. And Bam's witty personality and daring stunts made him a fan favorite.
After "Jackass," Bam had his own show called "Viva La Bam." There he continued his wild stunts and pranks. The show followed Bam and his friends as they pulled off crazy pranks and challenges. It was all under the watchful eye of his parents, Phil and April Margera.
Movies and Other Ventures
Bam Margera's fame extended to the big screen with the "Jackass" movies. Their first two films of this series were huge successes. And specifically, Bam's crazy stunts and humor stole the show. He was also part of three other movies in this series and had a minor role in the last film.
All "Jackass" movies and CKY DVDs have generated revenue and contributed to his financial success.
Apart from his film or television appearances, Bam explored other ventures too. He had his own clothing line and various merchandise. Especially, Bam's fans loved sporting his clothing and accessories, making his business ventures successful.
Skateboarding and Music
Along with other activities, Bam Margera remained dedicated to skateboarding. He kept participating in various skateboarding competitions and events. And he has been sponsored by some popular brands during his skateboarding. That further added to his earnings.
Again, Bam's love for music also played a role in his career. The CKY band often provided the soundtrack for his videos and shows. That apparently added an extra layer of excitement to all the stunts.
FAQs
Is Bam Margera and Missy still together?
No, super stuntman, Bam Margera, and Missy Rothstein are no longer together. They got divorced in 2012 after being married for several years.
Does Bam have a child?
Yes, Bam Margera has a child named Phoenix Wolf. He and his now ex-wife Missy Margera welcomed their son into the world in 2007.
How does Bam make money now?
Currently, Bam Margera's primary sources of earnings are his TV shows, brand collaborations, merchandise sales, and his filmmaking venture.
What's happened to Bam Margera?
The former skateboarder, Bam Margera was hospitalized due to  COVID-19 and Pneumonia in 2022.
Final Thoughts
Even after facing a lot of legal trouble and addiction issues, Margera managed to get over all these. And Bam Margera net worth still be a substantial figure. His merchandise sales and CKY DVDs are still generating revenues.